Patricia Coyne-Fague, Esq.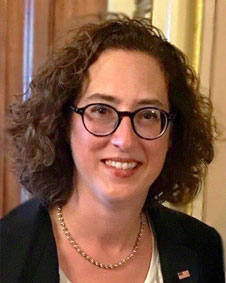 Full Name: Patricia Anne Coyne-Fague, Esq.
Title: Director of Corrections
Commission Title: Commissioner / Compact Administrator
Role Group: Parole & Probation
Agency: Department of Corrections
Unit:
Address: 40 Howard Avenue
Cranston, Rhode Island 02920
Region: East
Office Email: doc.icots@doc.ri.gov
Email: Patricia.CoyneFague@doc.ri.gov
Office Phone:
Direct Phone: 401-462-2611
Cell/Mobile:
Fax 1: 401-462-2630
Fax 2:
Website:
Note:
Patricia A. Coyne-Fague, a lifelong Rhode Island resident, graduated cum laude from Rhode Island College in 1990 with a Bachelor of Arts degree (major: Political Science; minor: Philosophy) and earned her Juris Doctor degree from New England School of Law in 1993.
She is a member of the Rhode Island Bar, and the bars for the U.S. District Court for the District of Rhode Island, the U.S. Court of Appeals for the First Circuit, and the U.S. Supreme Court.
She has served as a criminal prosecutor in the Rhode Island Department of the Attorney General from 1994-2000 before joining the RIDOC as a staff attorney in January 2000. She was promoted to Chief Legal Counsel in 2004 and then to Assistant Director for Administration in 2012. She currently serves as the Director of the Department of Corrections.