Cynthia Stout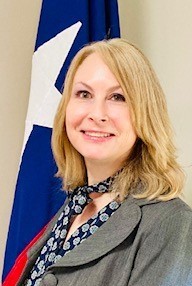 Full Name: Cynthia Stout
Title: Deputy Compact Administrator / Director
Commission Title: Deputy Compact Administrator / Director
Role Group: Parole & Probation
Agency:
Unit:
Address: 8712 Shoal Creek Blvd, Suite 280
Austin, Texas 78757
Region: South
Office Email: Texas.interstate@tdcj.texas.gov
Email: Cynthia.stout@tdcj.texas.gov
Office Phone: 512-406-5990
Direct Phone: 512-406-5989
Cell/Mobile: 512-552-2642
Fax 1: 512-452-0469
Fax 2:
Website:
Note:
I have over 25 years of experience in the criminal justice field, including 22 years with the Texas Department of Criminal Justice. I have held a variety of positions within the Parole Division, including parole officer, unit supervisor, program specialist in Internal Review and Training, and parole officer IV in the Super-Intensive Supervision Program. My most recent role was Warrants Section assistant section director, where I helped transform and lead our electronic monitoring programs. I earned my bachelor's degree in social work from Southwest Texas State University in San Marcos, Texas.