Joselyn López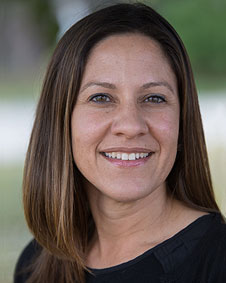 Full Name: Joselyn López
Title: Corrections Services Supervisor
Commission Title: Commissioner / Compact Administrator
Role Group: Parole & Probation
Agency: Corrections Services
Unit:
Address: 3099 E. Washington Ave.
Madison, Wisconsin 53704
Region: Midwest
Office Email: docdccic@wisconsin.gov
Email: Joselyn.Lopez@Wisconsin.gov
Office Phone:
Direct Phone: 608-240-5333
Cell/Mobile:
Fax 1:
Fax 2:
Website:
Note:
Joselyn López was appointed as Interstate Compact Administrator for the State of Wisconsin in June 2017. She has been a member of the ICAOS Information Technology Committee since 2017, joined the Rules Committee in 2018, and was appointed as chair of the Training Committee in 2019.
López began her career at Wisconsin Community Services as a case manager for juveniles. She transitioned to working with adults in the private sector for 10 years for a non-profit organization where she managed community correctional services. López joined the Wisconsin Department of Corrections in 2010 as a Program and Policy Analyst where she developed evidence based programming for offenders and trained staff on evidence based practices. She is a trainer for Trauma Informed Care in the Criminal Justice System and Risk Reduction Strategies in community supervision. During her years as a Corrections Field Supervisor (2013-2017), she served on the Dane County's OWI Advisory Board where she lead risk reduction supervision strategies and provided oversight to correctional services.
In her current position as Corrections Services Supervisor, López continues to provide a positive impact on others by providing statewide oversight of offender programming, staff education, employment programming, and reentry initiatives. She also serves as the Chair for the Evidence Based Decision Makers Committee.
Throughout her established and dedicated career, López has committed herself to Evidence Based Practices and demonstrated the ability to work effectively working with diverse groups and populations.
López has a Bachelor of Arts in Criminology from Marquette University and a Master of Science in Criminal Justice Administration from the University of Wisconsin.