Mary Kay Hudson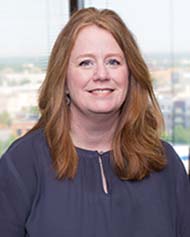 Full Name: Mary Kay Hudson
Title: Executive Director
Commission Title: Commissioner / Compact Administrator
Role Group: Parole & Probation
Agency: Indiana Office of Court Services
Unit:
Address: 251 N. Illinois Street
Suite 800
Indianapolis, Indiana 46204
Region: Midwest
Email: mk.hudson@courts.in.gov
Office Phone: 317-232-1313
Direct Phone:
Cell/Mobile:
Fax 1:
Fax 2:
Website:
Note:
Mary Kay Hudson is the Executive Director of Court Services for the Indiana Judicial Center, an agency of the Indiana Supreme Court. Her responsibilities include implementing statewide judicial initiatives in problem solving court legislation, rules, policy, education and certification. Ms. Hudson is a governor's appointee to the Commission for a Drug Free Indiana and serves as co-chair of the Consortium of State Drug Court Coordinators. Ms. Hudson obtained a Bachelor's Degree in Criminal Justice and Biology and a Master's Degree in Social Work from Indiana University.