Commissioner
Commissioner / Compact Administrator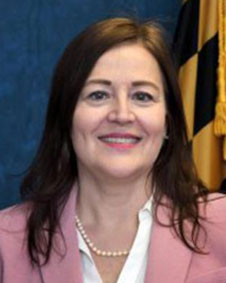 Biography
Martha Danner began her service career working with troubled juveniles in several public and private facilities. In 1986, Danner landed her first
read more
Martha Danner began her service career working with troubled juveniles in several public and private facilities. In 1986, Danner landed her first job as a Parole and Probation Agent in south Prince George's County and followed that with a job in Anne Arundel County. She spent 3 years with the Department of Corrections serving as the Assistant to the Deputy Secretary of Operations, where she had a panoramic view of the Department.
Danner is currently the Director of the department's Division of Parole and Probation, managing a staff of 1,100, about 700 of which are agents, in 43 offices around the state.
Director Danner serves on the Board of Trustees for Maryland for Middle Atlantic States Correctional Association (MASCA) and as Maryland's Commissioner for the Interstate Commission for Adult Offender Supervision (ICAOS).
She graduated with a sociology and political science degree from Frostburg State University.
less
Deputy Compact Administrator
State ICOTS Administrator
State Council
Members
Stephen Moyer, Chair and Secretary, Dept. of Public Safety and Correctional Services
Walter Nolley, Commissioner and Acting Director, Division of Parole and Probation
The Honorable Kris Valderrama, Delegate, House of Delegates
The Honorable Julie Stevenson Solt, Associate Judge, Circuit Court for Frederick County
The Honorable Scott G. Patterson, State's Attorney for Talbot County
Vacant, Victim Services Representative
Susan Baron, Assistant Attorney General and Counsel to the Council
Fees
Supervision
Probation: $40 + Associated Fees
Parole: $40 + Associated Fees
Application
N/A
Other
Supervision for DWI/DUI Offenses Fee:
Probation: $40 + $45/mo DDMP Program Fee + Associated Fees
Parole: $40 + $45/mo DDMP Program Fee + Associated Fees

No fee for other state offenders supervised in MD.