Commissioner
Commissioner / Compact Administrator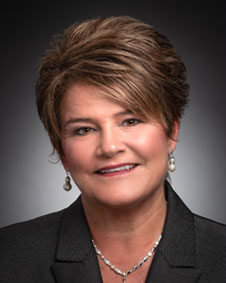 Biography
Julie Kempker is currently the Missouri Director of the Division of Probation and Parole. She began her career within the Missouri Department of C
read more
Julie Kempker is currently the Missouri Director of the Division of Probation and Parole. She began her career within the Missouri Department of Corrections in 1988 and she has worked in many capacities including Probation and Parole Officer, District Administrator, Deputy Interstate Compact Administrator, Assistant Division Director and in 2014 she was appointed to the position of the Director of Probation and Parole. Julie has worked within Adult Institutions, field Probation and Parole, institutional Probation and Parole, Interstate Compact and Offender Rehabilitative Services. Prior to her work in Probation and Parole she served as the Department of Corrections Reentry Manager where she spent eight years educating the department, communities across Missouri as well as other states within the US about the implementation of evidence based practices for successful offender reentry.
Ms. Kempker received her Bachelor of Science Degree in Criminal Justice and Psychology at Southwest Missouri State University and Lincoln University.
less
Deputy Compact Administrator
State ICOTS Administrator
Compact Office
Interstate Compact Unit Supervisor
Victims' Representative
State Council
Members
Anne Precythe, Commissioner / Chair
Julie Kempker
Senator John Rizzo
Representative Nick Schroer
Kathleen Tofall, Victim Representative
John Mosley, Ex-officio
Steve Mueller, Ex-officio
Gale Bridges, Ex-officio
Diana Duff, Ex-officio
Cicely Riley, Ex-officio
Christy Carpenter, Ex-officio
Anita VanDorin-Laire, Ex-officio
Kristi Lockwood, Ex-officio
Rick Kuttenkuler, DCA / Ex-officio
Effective January 1, 2017,
the Missouri criminal code revisions included changes to RSMo 217.735 and 559.106. These revisions have expanded the population of Missouri sex offenders who are eligible for lifetime supervision. The code now includes numerous offenders who are currently on supervision that previously did not meet the statutory criteria, but will now as the provisions are applied retroactively. Lifetime supervision means the offender will have to submit to GPS monitoring in addition to the current conditions of supervision. For each impacted interstate case, Missouri will send applicable information to the receiving state via ICOTS that will fully outline the offender's supervision requirements, along with documentation requiring the offender's signature. Missouri thanks everyone in advance for their assistance.
Fees
Supervision
$30/mo
Application
N/A