Victims' Group Representative
Commissioner
Commissioner / Compact Administrator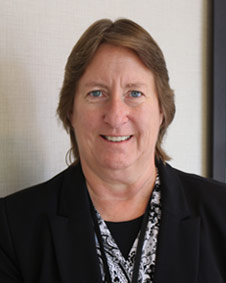 Biography
Rebecca Brunger began her career with the Alaska Department of Corrections during May 1988, when she was hired as a field probation officer and as
read more
Rebecca Brunger began her career with the Alaska Department of Corrections during May 1988, when she was hired as a field probation officer and assigned to the Bethel Adult Probation Office. Ms. Brunger transferred to the Palmer Adult Probation Office during August 1990 and carried out a variety of work assignments to include supervising generic and travel caseloads within the District as well as writing pre-sentence reports. In May 1999, Ms. Brunger was appointed to an Adult Probation Officer III position and became responsible for the supervision of the Palmer Adult Probation Office. Ms. Brunger remained in that capacity until May 2007, when she was appointed as the Chief Probation Officer for Region I where she was responsible for the oversight of the field probation offices located in Bethel, Dillingham, Kenai, Kodiak and Palmer. Ms. Brunger was appointed to the position of Deputy Director for the Division of Probation and Parole during November 2015.
Ms. Brunger graduated from the University of Alaska, Fairbanks and received a Bachelor of Arts Degree in Criminal Justice with a minor in History.
less
Deputy Compact Administrator
State ICOTS Administrator
Compact Office
Criminal Justice Technician / ICOTS Administrator
State Council
Members
Jennifer Winkelman, Direction of Pretrial, Probation and Parole, Department of Corrections
Matthias Cicotte, Asst. Attorney General-Chief Corrections Counsel
Senator John Coghill, Legislative member
Victoria Shanklin, Victims' Group Representative
VACANT, Judicial Representative
Joseph Gamache, Public Member
Barbara A. Murray, Juvenile Compact Administrator
Tracey Dompeling, Director, Division of Juvenile Justice, Department of Health & Social Services
Rebecca Brunger, Adult ICAOS Commissioner
Meeting Documents
Fees
Supervision
N/A
Application
$100 Application fee is only applicable to those who apply within the state.